Canon Point & Shoot,20 MP ,8x Optical Zoom and 2.7 Inch Screen - IXUS185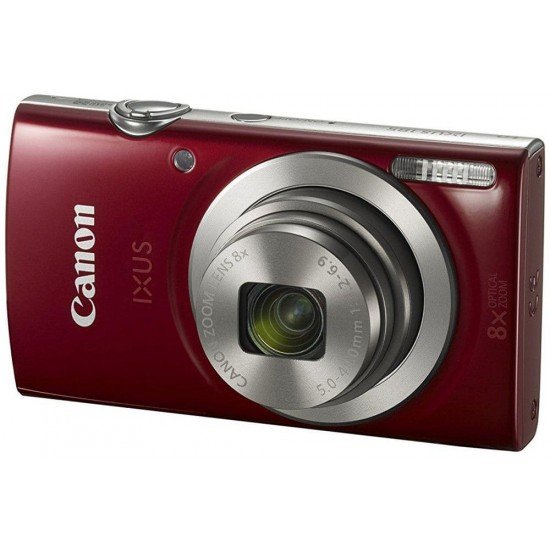 Out of Stock
30 Days
Buyer have the right to replace the product or return it
with a cash refund within 30 Days of receiving it, if it is Defective
- In accordance with Law No. 181 of 2018 of the consumer protection system
If you do not want the product or changed your mind, you can return or exchange it and pay the shipping cost only

Canon Point & Shoot,20 MP ,8x Optical Zoom and 2.7 Inch Screen - IXUS185
Canon IXUS digital camera offers an unmatched excellence in capturing images. Buy this IXUS 185 camera from Hyatna-Eg.com.If you want to take a step closer to professional photography, then put your hands on the IXUS 185 digital camera from Canon. The 8x optical zoom along with a 20MP camera and a DIGIC 4 Plus image processor makes capturing bright and sharp images a child's play. Also, the Digital IS allows you to shoot pictures and videos without noise and distortion, even at high zoom lengths. Also, it has an Easy Auto feature that selects the best camera settings for you automatically and locks other buttons to help you avoid pressing them by mistake. Furthermore, the Auto Zoom intelligently selects the best framing for stills and movies, depending on the number of people in the shot. This camera records HD videos at 720p resolution. The IXUS 185 has the right fusion of advanced technologies that detect optimal settings and offer a smooth operation to point and shoot directly.
PHYSICAL FEATURES
STUNNING IMAGE QUALITY
The stylish and compact IXUS 185 runs on the DIGIC 4 Plus image processor with a high resolution 20MP camera sensor. It features an 8x optical zoom that lets you capture every moment, near or far, in stunning quality. It also features a unique ZoomPlus technology so that you can further extend the zoom factor to 16x zoom to capture far off subjects with fabulous detailing. It has a 2.7inch screen that displays all the shots captured by you.
MULTIPLE SHOOTING MODES
The Canon IXUS 185 digital camera is laced with fun features for improved performance. It has various shooting modes such as fisheye effect, miniature effect, monochrome, super vivid, toy camera effect, poster effect, firework, and long shutter, which give you the freedom to experiment with your regular shots and perceptions.
STUNNING FEATURES
Precision is the key to good professional photography. The Canon IXUS has an Easy Auto feature that can be activated by simply pressing and holding on to the dedicated button. This allows you to disable other options like function settings and menu and info buttons so that you do not get lost in menu pages and make faulty operations. The icing on the cake is the date stamp feature, which can be activated with one click, allowing you to recall memories at a glance just by looking at the date and time stamped on each photo.
Stock: Out of Stock
Brand: Canon
Model:

IXUS185
Products Sold: 0
Product Views: 10579